Myst, 25 years old
Monday, September 24, 2018
The history books say that Myst was originally released for Mac and Windows on September 24th, 1993. Or, at least, that's what Wikipedia and Mobygames say. Let's call it accurate for the purposes of wearing the party hat.
The anniversary collectible box-set is still in progress, but all the games are now available on GOG -- including Myst 3 and 4, which were out of print until now. As I write this, Myst 3 and 4 have not yet appeared on Steam, but Cyan indicated (in a KS update) that those games should be out for general release today. (KS backers have already received Steam keys, and I've replayed a bit of Myst 4 on Steam already.)
Fans should also take a look at the
Myst community rewards page
, which has some of the downloadable goodies that were promised as stretch goals. These include 3D printable models, scans of concept art, and design documents.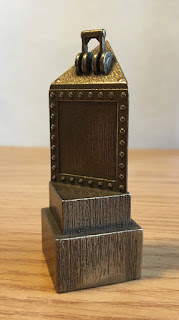 Here's one of the 3D models, which I had printed via Shapeways. If you want a copy, you should use my cleaned-up model. I printed it in steel, 8 cm high; cost me $100.
Another anniversary announcement: Mysterium, the Myst fan convention, is planning a Global Mysterium Day -- people will organize local fan get-togethers in as many cities as possible. The date is not set, probably spring of 2019 sometime. There's a mailing list, particularly if you're interested in hosting.
Mysterium itself will no doubt be back with its regular convention in late summer.
And finally, let me give a quick boost to The Five Cores Remastered, a Kickstarter which is now in its final day. The Five Cores was a Myst-inspired low-budget adventure game from 2012. The author now plans to update it to the Unreal engine, improve puzzles, make the environment more dynamic, and generally improve things.
I never played the original release -- I didn't have a decent Windows machine in 2012. So I'm excited about having a new "as it was meant to be" version available. As I write this, the Kickstarter is barely $100 short of its goal, so let's not let that wipe out.