This month in planetary exploration
Sunday, October 5, 2014
Last year a game called
Extrasolar
showed up. It's a casual browser game about exploring an alien planet.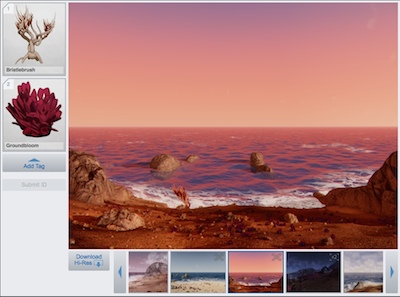 I haven't written a full review, but let me assure you that Extrasolar is delightful. You drive a rover around the fictional world, photographing wacky alien life-forms. At the same time, you're drawn through a storyline -- investigating the corporation that discovered this alien world and the technology which made it possible. The story is maybe a little thin, but it's nicely produced and offered in a juicy ARG-like framework. The point of the game, anyhow, is the planet. It's gorgeous, it's detailed, it's got layers of thoughtful biological world-building, and you get to wander around it with a camera. What could be cooler?
Extrasolar
belongs to that pleasant species of game with which you can be obsessed without ruining your work day. You set a photography spot for your rover; four hours later you get the results back. Checking your rover is a coffee-break activity, not a way to lose a whole afternoon. If you buy a paid account (a one-time fee), the turnaround drops to one hour, but you can then program up to four photographs at a time.
The game launched with one explorable island and one "season" of story content. It took me about six weeks to play through (on the free, four-hour-turnaround schedule) (I paid up afterwards).
The company now wants to expand this to a second island and a second season. They've set up a
Kickstarter project
for this purpose. The project deadline is Wednesday, and if you take a look, you'll notice that it's basically tanking. Less than 25% funded. That is not what a KS project wants to see in its final week.
This is sad. Extrasolar is an ambitious idea; it's a game that isn't like a thousand other games you've played. It shouldn't be languishing in the Kickstarter races. For that matter, it shouldn't need Kickstarter; it should have a steady stream of players who are satisfied and happy to pay for season one. I don't have anything clever to say about that, nor any brilliant plan for making it successful. The game industry is rough and outside-the-box games have it rougher. (What this means for my own game-design future -- well, it's not encouraging.)
I will say that you should try it. Even with a free account, you can start to see bits of the story by Wednesday evening, and decide whether to donate to the Kickstarter. Then you should donate to the Kickstarter anyway. I'm not optimistic about it, but I could be wrong.
Extrasolar: Season 2
(Kickstarter)
Yes, that's me blurbing the game on the KS page. Also, I recommend reading through the updates on the
KS blog
. They've offered up a lot of the reasoning behind their play model, their technology, their science-fictional worldbuilding. This is a level of detail that game companies usually don't get into in public, and it's worth a read even if you don't plan to donate.
---
Here's a more energetic project:
Elegy for a Dead World
, a game about exploring an alien planet. But in a completely different vein!
I know less about this one. I've walked past a demo at PAX, and I've talked a little with the designers, but I haven't tried it myself.
The idea is that the game offers you images and fragments of a setting; then you write. That's the whole thing. It's not a puzzle game and it doesn't have a secret story built in that you're supposed to uncover. It's a system for players to create and share their own texts. A nice set of writing prompts and a framework to write in. If you're unsure about the literary inspirations here -- the three alien worlds are Shelley's World, Keats' World, and Byron's World.
This is way out there. It has more in common with a
fanfic challenge
than anything else. I have no idea if it will work; I don't even know if it's the kind of thing
I
want to play.
But this is exactly what I've backed it. I want to see more strange, experimental, off-the-wall games get launched. And this one, as I said, is doing a lot better. It's over 50% in the first week, which is on track for success.
(I have to admit, my first question was "Can people build environments for their stories and then explore each others' worlds?" Because I am obsessed with
building and exploring worlds
. No, that's not what Elegy is about. You can read each other's texts, and there will be some kind of rating system so that popular ones float to the top.) (I have no idea what they're doing about the kind of gamer who draws a dick on everything.)
You should back this one because it's a crazy idea that no reasonable dev studio would pursue.
Elegy for a Dead World: A Game About Writing Fiction
(Kickstarter)