Meanwhile update -- and a one-day sale
Thursday, January 26, 2012
I've just released an update to
Meanwhile
. Is this exciting? I hope it is, because this release contains new high-definition artwork. Digitally remastered from Jason Shiga's original files!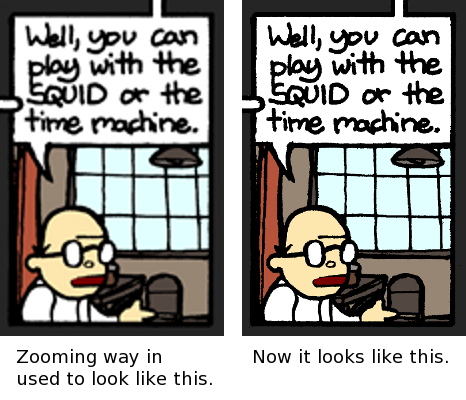 (I've always wanted to say "digitally remastered". One has fewer and fewer opportunities these days.)
On iPhone 4 (or other retina-scale displays, such as the newer iPod touch) you will see a sharper, clearer Meanwhile. You can also zoom in farther than before, a full 2x, to see this art in all its detail.
Older devices (such as iPad 1 and 2) cannot display the sharper artwork at normal zoom. But you can still zoom in to 2x to see the high-resolution art.
To celebrate this, I am offering
Meanwhile
for a impulse-buy-delighting
$0.99
-- for today only. Jason and I think that the app is its own best advertisement -- everyone who plays with it is immediately in love with the design. So, we want more people to play with it. Pass the word around to your friends.