Boosting some current Kickstarters
Wednesday, September 23, 2020
I promised to have my Calvino game jam entry up yesterday. But if you look at the jam page, you'll see that the deadline -- and therefore the release date -- has been extended to Sept 30. I like the idea of kicking another week's worth of stuff into it, so you get to wait a bit longer for that.
In the meantime, let me mention some Kickstarters that I think deserve some love.
---
Club Drosselmeyer is an interactive theater / puzzle / music / circus-arts event which has played for the last few years in the Boston area. I went last year for the first time and had a blast.
The theme is The Nutcracker, only it's gonzo-WW2 swingtime era, so the Nutcracker is a dancing robot and there are Nazi spies creeping around stealing blueprints. Also, live music and acrobatics! The live show was a smart construction. You could go for the puzzles, the LARP-style interactions with characters, or just to cut it up on the dance floor.
This is not the year for live theater, so the Drosselmeyer crew has planned out an interactive radio show. Again, you can go for the puzzles or just listen in on the audio broadcast. If you want to get involved, there will be some kind of call-in system -- audience interactions will shape the direction of the night's show. But you can also play on your own schedule; the event will remain playable as an interactive web site.
Note that if you have a group that wants to play as a team, you can share one Kickstarter registration. The registration only lets one phone call in, but you can set up a Zoom chat or whatever you want for audio sharing.
Drosselmeyer has been a treasure of the Boston theater-game scene since it opened in 2016. This is your chance to check it out from anywhere in the world -- well, anywhere that can make phone calls to the US. The Kickstarter has been stuck at 40% for a few weeks now and it deserves better.
Bonus: here's me looking somewhat suffused in my 1940s getup for the show. Yes, in the bathroom, that's where the big mirror is.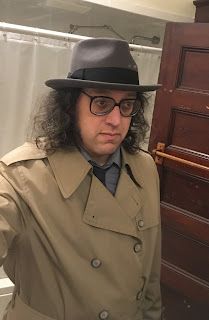 ---
IndieCade is going virtual like everything else this year. They're planning a week-and-a-half slate of talks, demos, a showcase of indie games, and online community. I like this plan! (Although, hint from the trenches: nine days is a really long show. Stay hydrated.)
Furthermore, they want to keep an active community and game showcase running year-round. The Kickstarter is to fund tools, streaming, and staff to support this.
I've only been to one IndieCade, in 2015. I was invited to demo Seltani, which I did (with Carl Muckenhoupt's help -- thank you!) I also kicked around the festival and met a bunch of cool people, including Sam Barlow and Cat Manning, and generally -- not to repeat a cliche -- I had a blast.
So I would like to see what IndieCade does as a virtual entity. Consider it.
---
Romancelvania: Honestly I have no idea about this one. The KS page isn't up yet. But this writeup sounds hilarious: Castlevania plus The Bachelor. Honestly, I could use a game where the devs say "We were all making each other laugh hysterically."
So I have no idea if it'll be any good, but it's worth a mention.
---
That's all I've got on my active (or not-yet-active) KS list. Of course there's a long, long list of backed games in progress. I'm not going to count. You know how Kickstarter works. (My KS game was four years late; complaining would be extra-silly.)
But I'll have my Calvino game up next Wednesday -- promise! And you'll have all day to enjoy it before the IFComp games go live on Thursday...