Meanwhile launching on Steam on January 17th
Tuesday, December 5, 2017
Comments: 5 (latest January 16, 2018)
The coming soon page for Meanwhile is now live on Steam! It will be available for Mac and Windows. Our planned launch date is January 17th.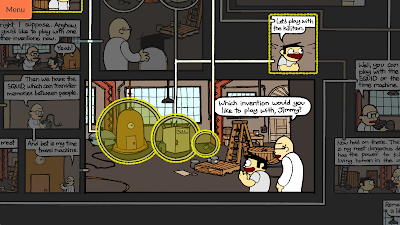 (I'd like to support Linux, but I haven't figured out how to get or build the SkiaSharp library in a way which will reliably work for Linux gamers. Feel free to drop me hints!)
I intend to also release the game on Itch.IO. I haven't set up the Itch page yet, but I'll link it when the time comes.
If you're new to Meanwhile, it's an adaptation of Jason Shiga's groundbreaking interactive comic book. A thrilling tale of quantum mechanics and self-discovery with 3,856 story possibilities!
This Steam release has been a long road. The original iPhone version of Meanwhile appeared in 2011; I've been working on the Unity port since August of this year. Jason and I are excited to finally get it out the door.
---
Comments imported from Blogger