More progress towards Hadean Lands on Steam
Tuesday, April 12, 2016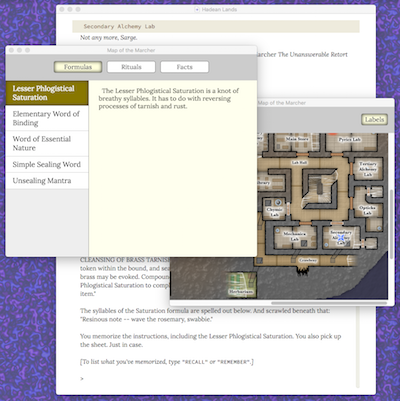 Here's a work-in-progress shot of
Hadean Lands
on MacOS. I'm using an extended version of
Lectrote
, with HL's map and journal windows added in. (The iOS release of HL has always had these, but not the Mac/Win releases. Until now!)
Yes, two different windows are titled "Map of the Marcher". I'll fix that.
(Background:
Lectrote
is a new interpreter for Glulx IF games -- meaning most recent Inform 7 games. It runs on Mac/Win/Linux, and it supports all Glulx features except audio. I still have a "beta" label on it, but it's been stable for people so I think it's about ready to 1.0-ify.)
Once this is ready, I'll soft-launch it as an update for existing HL users (people who bought the desktop version through Itch or Humble, plus Kickstarter backers). I'll also post the process of turning your Glulx game into a Lectrote app like this.
In other news, I was interviewed on
another podcast
! Guy Hasson of
Blind Panels
talks to me about pretty much the entire history of IF. Plus other stuff I've done.