RealMyst update news
Wednesday, September 25, 2013
Twenty years ago yesterday,
Myst
showed up on store shelves for the first time. Not a bad start to an era.
Myst-related news has been thin recently, but Cyan took the anniversary opportunity to announce that they're working on a new update of the classic game:
RealMyst Masterpiece Edition
. Their news post includes three preview screenshots.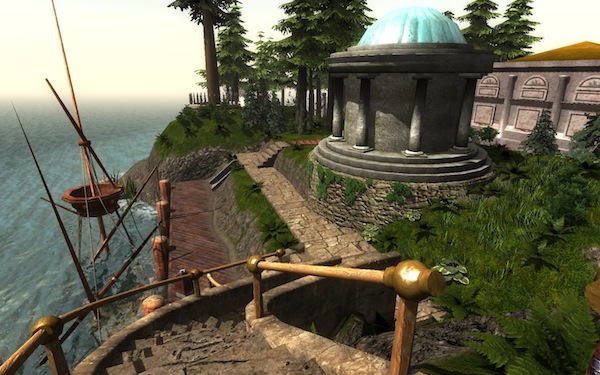 Myst
has been ported and reimplemented a bunch of times. If you've lost track, here's a very incomplete history:
1993: Original game ("slideshow-style"), on CD-ROM
2000: Myst Masterpiece Edition (same style, but higher-res renderings)
2000: RealMyst (3D environment, free movement, added "epilogue" Rime Age)
2009: Myst for iOS
2012: RealMyst for iOS (using the Unity engine)
This new version presumably also uses Unity, building on the work they did last year. However, it will target desktop machines (Mac/Win) and look much nicer. As is Cyan's recent habit, they will offer an option of free movement or fixed-node navigation. (See
additional notes
in a Facebook post.)
I confess that I can only get so excited about
yet another
Myst re-release. Better news: Cyan has continued to drop hints about an upcoming Kickstarter project -- unrelated to the Myst series, and possibly appearing in the next few weeks. (No primary source here, but see
this forum thread
.)
Finally, I'll note that the
Starry Expanse
people gave a nice demo at Mysterium in August. This is the fan "RealRiven" project that's been in progress for several years now. They released a
tech demo
last year, showing one of Riven's islands. They now say they have
all
of the islands in progress, although at early stages yet. A long video of their talk is
up on youtube
; jump to 08:30 to see some juice.
And finally... did I already do "finally"? This'll be "one more Myst-related thing", then. My
Seltani
project continues to move along. I've added three small Ages in the past month: Caelios, Fleuven, and the Endless Cave.
All three rely on the same sort of procedural text-generation that I've been using in IF for years. (In fact, the Endless Cave is a direct port of the "maze" area from
Hunter in Darkness
.) If you're curious how these tricks are accomplished, look at the
Ways of Printing
documentation page on the Seltani wiki, and then the
Endless Cave source code
.
---
Comments imported from Gameshelf