IF News & Dungeon Report
Wednesday, July 28, 2010
It's been a crazy couple of weeks in IF, and we're expecting several more months of crazy on the horizon.
Some guy named James Mastros implemented GlkNew, a web-based version of my Glk IF-playing interface. I literally had no idea this was going on. This is a play-in-a-web-browser system, but unlike Parchment and Quixe, the game engine runs on a back-end web server. It's a different set of tradeoffs. I haven't played with it much, but I'm happy to see this.

IF plans for PAX Prime are coming together. There's one IF panel on the PAX schedule, I believe there will be a GET LAMP reprise, and we'll see the usual list of smaller IF-related events organized by the community. Also as usual, the convention is sold out. If you can't make it, maybe next year in Boston.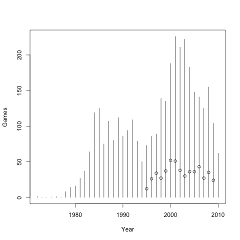 Finally, we have this little graph, courtesy of James Lawton. (Click for full resolution.) James went through all the game data in IFDB, and graphed them by year of release. (All the games that had that information, anyhow -- 3491 of them, as of July 24th.) The circles indicate the number of games released in the IFComp, starting in 1995.
The overall shape is clear; you can see the early years, the mid-80s boom. The tail-off of the commercial companies crosses the rise of the early-90s amateur and shareware community. And then, the modern IF boom of 2000, when the
IFComp
was really taking off.
You could read the past several years as a discouraging slump. I demur. We discussed this a little on IFMud, and noted some probable causes. Some sources of very small, lightweight IF games --
SpeedIF
, ADRIFT mini-games -- have become less popular. More full-length games are appearing. And, we think, IF is spreading into many corners of the online world -- it's no longer concentrated in two newsgroups and an FTP site. So not all new games are appearing on
IFDB
.
However, these are off-the-cuff guesses. I can't back them up with data. Interested in doing some more IFDB research? Game size, platform, category, new authors vs established names... lots of room for study.
At any rate, 2010 is on track to at least equal 2009. I'm betting it will exceed it once IFComp season hits. Onward.
---
Comments imported from Gameshelf