Infocom sales figures
Monday, September 22, 2008
Simon Carless at GameSetWatch tips us off to a crazy piece of geek trivia: an
internal sales report of Infocom text adventures
.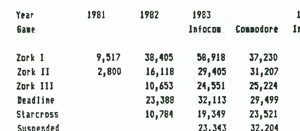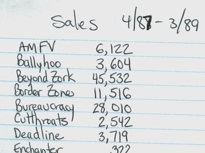 Click for links to complete image scans. The watershed between the two documents is Activision's 1986 acquisition of Infocom.
These scans were
posted by Jason Scott
as part of the research he's done for his upcoming
Get Lamp
documentary.
I don't have a lot to add to the observations in the GSW column. Zork 1 was the biggest hit, and stayed strong throughout the company's existence. Hitchhiker's Guide was their second biggest game; then Zork 2, Deadline, and Zork 3. (But the Zork sequels never did half as well as the original -- a pattern echoed, for example, by the Myst series a decade later.)
I am surprised by the relative weakness of Sorcerer and Spellbreaker -- the latter was hit by nasty stock returns in 1986. (Was there some marketing or distribution screwup there? A lot of the numbers in the '86 column look too small, even assuming the report was written partway through the year.) Contrariwise, Cutthroats was a bigger hit than I ever realized. Probably my biases towards fantasy and against "mundane" fiction are showing. Of Infocom's later games, Wishbringer, Leather Goddesses, and Beyond Zork were the strongest -- but Zork 1 and HHGG just kept on selling.
And then there's Cornerstone, whose
story
I need not tell.
Are these the numbers I should be trying to beat when I launch my commercial IF career into triumph? Heck, I don't know. Probably not. Even comparing the sales numbers from 1981, 1985, and 1989 is somewhat apples to pomelos, given the enormous expansion of the computer game market over that era. Today's market makes 1989 look like a grape -- and then it's split and split again (consoles, casual gaming, MMO gaming...) and merged with a dozen other industries (movies, cell phones, advertising...) If I imagine a successful IF career today, I see something that runs between casual gamers and reading/blogging devotees. (Yes, folks, people
read
on the Internet.) Hasn't happened yet, no. I'll let you know.
---
Comments imported from Gameshelf