You can buy HL on Steam
. That is the whole blog post.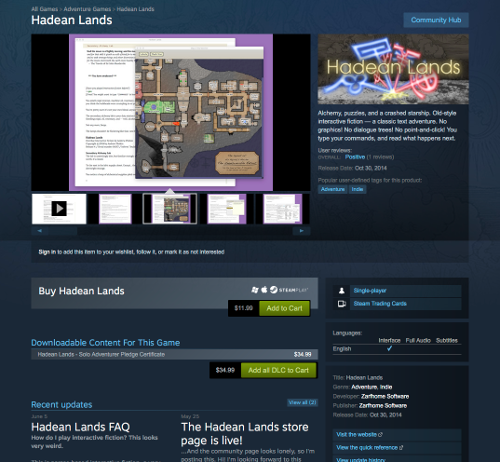 ---
Comments imported from Gameshelf
---
Mike
(Jun 20, 2016 at 1:46 PM):
Out of curiosity, if you had purchased Hadean Lands in another form (e.g., Humble Bundle) will Steam keys be made available? If not, I completely understand, it's not like anything was promised or should be expected, but sometimes publishers have been known to extend purchases across platforms (sort of like the new GOG Connect allowing Steam purchases to be matched on GOG).
---
Andrew Plotkin
(Jun 20, 2016 at 3:31 PM):
I am not planning to link Humble purchases to Steam keys (or vice versa).
(Reasonable question though!)
---
jhon
(Jun 20, 2016 at 4:59 PM):
Hello, Just want to say I was browsing Steam's new releases today, and skipped your game because the"banner" looked like one of those shitty 3D games to me.
---
Andrew Plotkin
(Jun 20, 2016 at 5:27 PM):
I am sorry to hear that!
If I had an art department, no doubt they would have come up with something that reads perfectly as "mathematical alchemical fracture" at 460-by-215 pixels. However, I've got what I've got.
---
Andrew Plotkin
(Jun 20, 2016 at 10:49 PM):
I have updated the Itch and Humble versions to catch up with the Steam release. There are just two very minor UI changes:
Prevent stray clicks from accidentally highlighting the map or journal controls. (You can still select text in the body of the journal.)
If a command causes long stretch of output and a MORE prompt, you will now see a small mark in the right margin which indicates where the output started.
---
jhon
(Jun 21, 2016 at 4:21 PM):
Just showing it is not a 3D game would be enough, but whatever, seems it was wrong to care.