It is up on the App Store!
Go take a look.
(If you have an iPhone or iPad or whatever, I mean. If you don't, you can still play
Dreamhold
on my web site or however you like. For old time's sake.)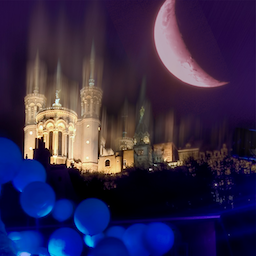 (The
Dreamhold
cover art is based on a photograph by Trey Ratcliff:
The Festival of Lights in Lyon
(CC by-nc-sa).)
I know most of you have already played
Dreamhold
-- it's a 2004 game, after all -- but it's been a fun game to revisit. This iOS release has a nifty map and some nifty (if cliche'd) trophy achievements, so maybe that will spark some competitive spirit or speedrun hijinks out there in Internet-land.
Unfortunately, I managed to ship the thing with a crashy bug. Several players have reported "Fizmo fatal error: Caught signal 11" messages. It
isn't
happening to everybody, and some people have gotten past it simply by quitting and restarting several times. (The problem seems to be showing up only on iPhone 4 and 4S, so far.)
I apologize for the bug, of course, and I hope to hunt it down this weekend.
(EDIT-ADD: I have submitted a bug fix, as of May 27th. It is awaiting App Store review.) (June 4th: Bug fix is available; grab the 1.0.1 update.)
Bugs aside, what does this mean for the greater world of interactive fiction?