After only a couple
extra
weeks of work (and non-work -- oh, PAX, you great distraction) I am declaring my iOS IF interpreter ready for beta-testing.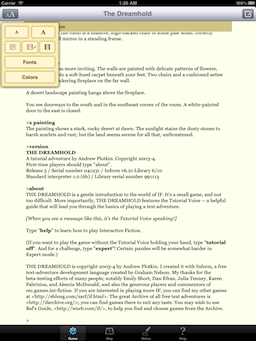 Again, this is not
Hadean Lands
. The first game I will distribute this way will be
The Dreamhold
, a tutorial IF game. It will be a free download. (Really,
The Dreamhold
is already a free download -- you can
play it on my web site
or in iPhone Frotz. I will be packaging it as a standalone IF app with my new interpreter code.)
As I said, I'm doing this for buzz, and to get feedback on the UI design. But as a bonus, this release of
The Dreamhold
will contain a brand-new dynamic map. I figure that mobile IF players don't want to draw their own maps. (I mapped all the IF I played when I was a kid... stacks of scrap paper all over the computer room. When you're standing on the subway in rush hour, it's not so simple.) So the game will track your progress, and fill in a map for you as you play.
I hope testing won't run too long, and
The Dreamhold
will be out by the end of April. (I know, last update I said "early April". Turns out that was wrong.)